The purpose of marketing is to attract leads and add them to your sales pipeline. Marketing attracts interest to your offer and inspires listeners to say, "Tell me more about that."
When it comes to building your business and income streams, referrals add speed to your sales pipeline. Mastering referrals is an essential element of every marketing plan.
With Cerule you have an amazing value to offer.
You can help people feel good and live healthier lives
You can show people how to join you on a journey to help people live exceptional lives while providing a unique opportunity
It's easy to tell people about the Cerule-GPN Residual Income Success Plan team because you are helping people and providing unique opportunity not available anywhere else.
Here is your Cerule-GPN Residual Income Success Plan 2-Question Script
BUILD RAPPORT: Start by inquiring about something they are interested in. If that is health-related, all the better. Many people may be interested in earning money at home or creating a side hustle that they enjoy working with.
The idea in the rapport-building stage is to get them talking about themselves and their interests.
After a few minutes, you can go into the script
START SCRIPT
I'm wondering, is health and feeling good important to you?
YES
NOTE: If they already indicated health and feeling good is important, you can say: "From what you shared, I can tell how important health and feeling good is to you."
Would you be interested in helping people live an extraordinary life while providing a unique opportunity?
YES
Then take a look at https://www.createanamazinglife.net/MEMBERID and see how we can potentially create a win-win together.
When your prospect opts in to your Cerule-GPN Residual Income Success Plan landing page, they become a lead in your sales pipeline. The GPN Business Building Consultant (BBC) Team will reach out to present, follow up with, and enroll qualified, interested prospects onto our Cerule-GPN team.
You may want to have in-depth conversations with people that you know.
In those cases, you'll want to adjust what you say depending on the interests of the person you're talking to. Here is a quick-start talking point script you can use to get started.
Here is an example of a conversation scenario you can have with people about the Cerule-GPN Residual Income Success Plan:
With people looking to make additional income, don't like their job, want to take control of their own destiny, or have tried Network Marketing and failed:
Hey <firstname>, I discovered a company that helps people like you and me create success in a home business like network marketing.
They have been around for 18 years and have 7 out of 10 team members successfully taking action to build their business. That's compared to less than 5 out of 100, which is typical in most home businesses today.
The reason for that level of success is that there is a sales team doing all of the presentation calls and enrollments for you.
You even get personal coaching to help you customize a marketing plan to build your business in a way that fits your situation.
OH, and by the way — they get you started with a company that helps you feel good and improve your health while helping other people live extraordinary lives.
If you are like me and care about your health and helping others, and are interested in making some additional money with a home business, you will definitely want to check this out.
NOTE: If they show interest, you can say –"Would you like to talk to a member of my team in a no-pressure, no-obligation free consultation to see how they can create a win-win for you, just like they are for me?"
NEXT STEP: Then, put their name and contact info into your GPN back office as a referral with a little background info on them, and our team does the rest.
How to add a prospect to your GPN Sales Pipeline at GPNCenter.com
STEP 1
Go to https://gpncenter.com
Log in
Click Building my Business
Select the Add Referrals and Leads button at the top of the page
STEP 2
Choose the "Personal Referrals" box since this is someone you know who knows you.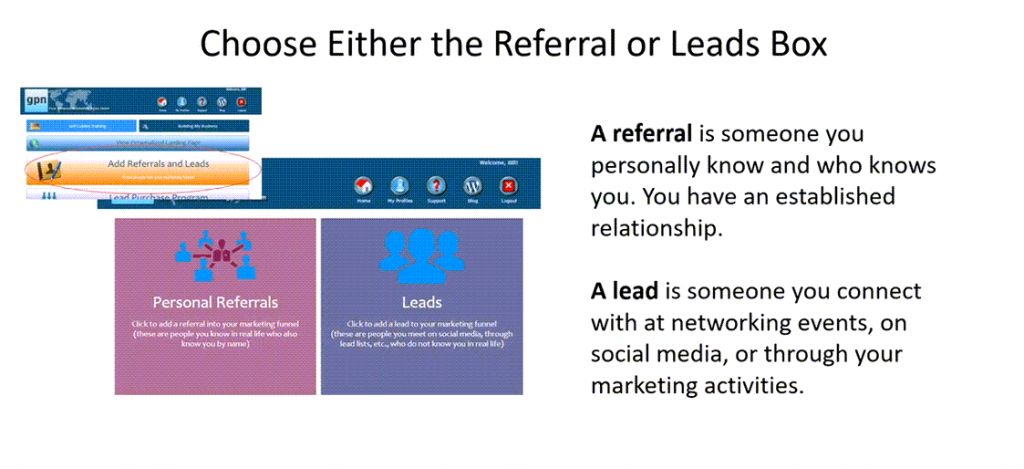 STEP 3
Fill in each of the blanks on the form.
Be sure to ask for their primary email address (the one they check all the time) and their mobile phone number.
Then include notes about the conversation, how you know this person, and anything else you can think of that would help the BBC to have an effective conversation with your referral.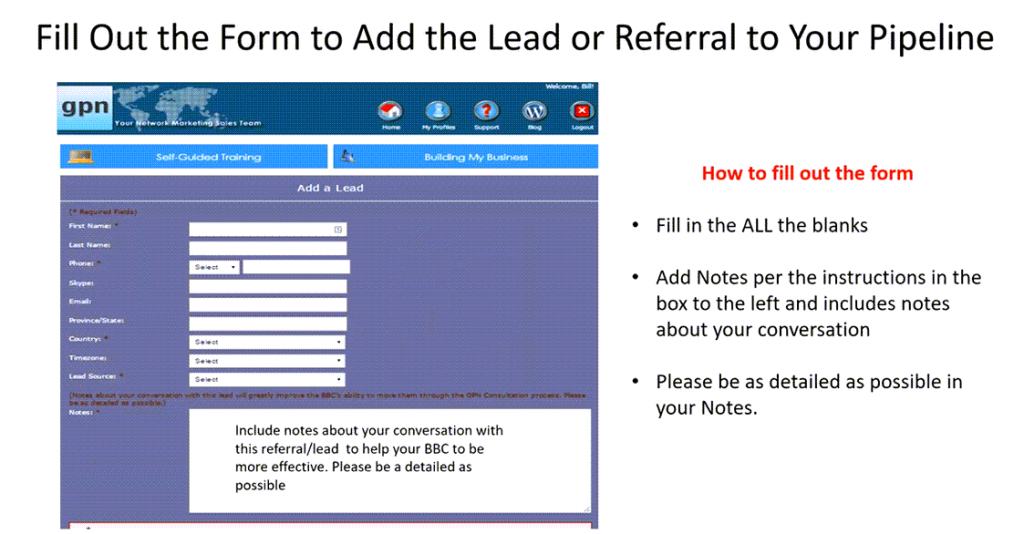 STEP 4
You'll finalize and submit the form by checking the box next to the red text (circled in the picture to the right) indicating that you spoke to your referral and they are expecting a call from a member of your GPN team.
IMPORTANT: Be sure to click the SAVE button at the bottom of the page, or your referral information will not be saved.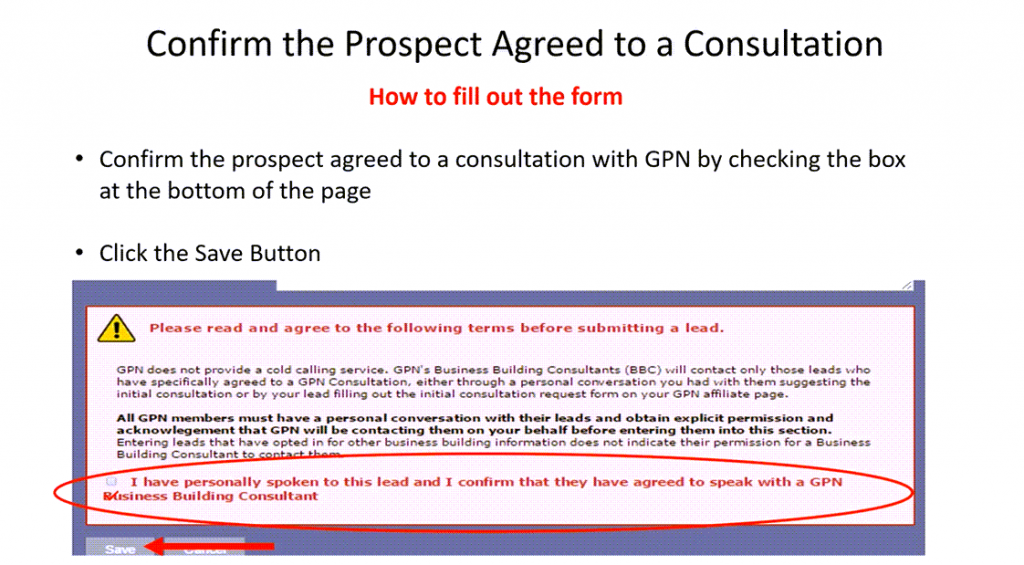 Referrals add speed to your sales pipeline. Make them part of your marketing plan
Just a couple of referrals a month can have a positive impact on your pipeline and Cerule income. It's also a great way to reach your Fast Start Bonuses with Cerule.
Supplemental Training to Review
GPN-Cerule Residual Income Success Plan Text Marketing Program
How to Follow Your Marketing Plan to Grow Your Business
How Successful Marketing Works
If you have questions about referrals or your Cerule marketing plan email coaching@gpncenter.com and we'll be happy to assist you.